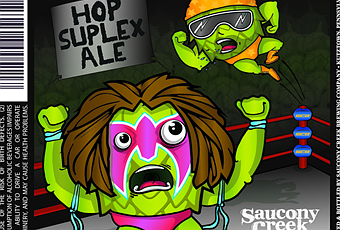 A new brewery for us, but one that has been coming out with some really cool, unique beers. The last one that piqued my interest was named "Schnicklefritz" which is a Chocolate, Cherry Milk Stout. As a consumer, I picked this one up based on the awesome label and kicked up ABV (10%).
According to the brewer
y, this i
s "
Hop Suplex is juiced with six different hop varieties in the brew kettle and our slow, heavy weight dry-hop additions added by HopfenKubel. Hop Suplex Ale features Saucony's widest range of hop varieties and our most complex hopping schedule. Hop Suplex weighs in at 10% ABV compliments of a hefty grain bill, but a dose of honey balances the flavor and compliments the floral and strong citrus tones of grapefruit, melon, and gooseberry provided from our favorite selection of hops."
This was a total surprise beer that jumped out of the glass when I poured it. The super fresh, resiny hop aromas were so pungent it made me "Whoa" Joey-style. The color was a nice amber that was not the usual heavy handed malt base that these big double IPA's usually have. On the first sip, this beer rocked my taste buds with a complex pine, citrus, tropical fruit and grapefruit flavor followed by a delicious sticky resin flavor that lasted a very long time. I am a huge fan of this beer and can't wait to see what else this brewery has to offer.
Saucony brewing won Rate Beer's Best New Brewery for Pennsylvannia for 2013. I have a good feeling that this brewery will quickly become incredibly popular, so snatch these up while they still flying under the radar.
Personal Rating: 9.9/10
Style Rating: 9.5/10
Wanna try it now? Order it online at:
http://www.whitehorsewine.com/proddetail.php?prod=850708005094