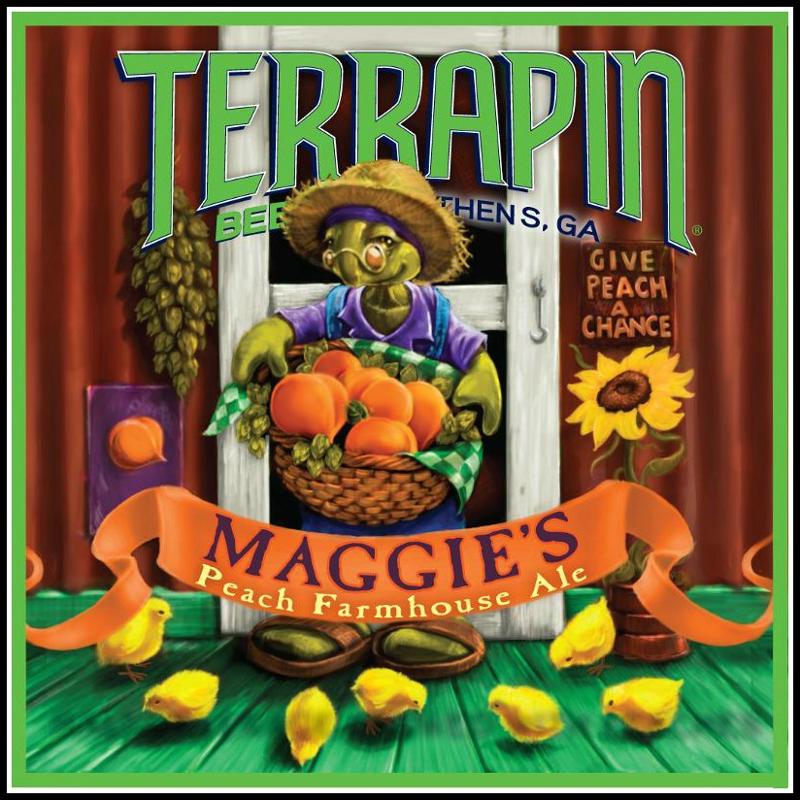 A new addition to Terrapins' Seasonal lineup arrived at our door yesterday and was calling our name with the warm weather that hit us this week! As Terrapin says "
This refreshing summer offering has all the flavor and aroma of a freshly picked peaches (to the tune of 1,000 pounds per 100 barrel batch!) combined with the complexity of a well executed farmhouse ale. Some of you may remember Maggie's older sister, Side Project Volume 7, one of Spike's first first foray into farmhouse ales. This newest version is just as lovely, should age just as well and has the uniquely GA flavor of fresh summer peaches!"
When you open this brew, the first thing that hits your nose is the aroma of fresh peaches and light sweet spice. It also has hints of citrus, mild hops and a touch of malt. This beer smells like a fresh peach, but can the taste live up to the aroma. I poured it into a glass and it has a nice light golden color. It looks incredibly refreshing but looks can be deceiving. The taste is a nice farmhouse style ale. It has a nice light citrus base with just enough sweet peach flavor to be refreshing without making it one of those "sweet" fruit beers. This is a great Summer beer, light, refreshing and eminently drinkable. A must try on one of the upcoming hot Summer days we will be having. At 5.3% ABV, it is not to heavy nor to light. Enjoy!
Personal Rating: 9.7 /10
Style Rating: 9.7 /10

Wanna try it now? Order it online at:
http://www.whitehorsewine.com/proddetail.php?prod=899539000717